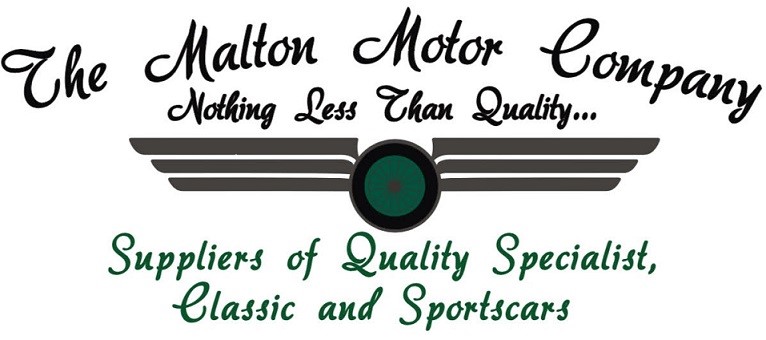 1973 Daimler DOUBLE SIX VDP AUTO
Series 1 5.3L V12 - Very Rare Model In Extremely Impeccable Condition
£90k Restoration Complete - Extremely Rare Car - Only 14k Miles - Best In The UK By Far!
Vehicle Specification
Mileage

15,230

Engine Size

5343cc

Transmission

Automatic

Fuel Type

Petrol

No. of doors

4

Colour

Green
*A Genuinely Unique Classic Car Purchase Opportunity For The Discerning Investor & Enthusiast In The UK Today. This Car Has Been Fully Restored Regardless Of Any Cost. In Many Ways This Car Is Now Even Better Than It Was When New! We Here At The Malton Motor Company Are Extremely Proud & Honoured To Be Able To Offer This Impeccable, Remarkable & Elegant Motor Car For Sale £37995 - 1972 Series 1 Daimler Double Six Vanden Plas Borg Warner 3 Speed Automatic Gearbox - V12 5.3L With Correctly Tuned Quad Zenith Stromberg Carburettors. Date first registered 1st February 1973. Current Registration Number Is DVP 66L - This Number Goes With The Car. (Damlier Vanden Plas - 66 = 12 V12) Nice number.Original Registration Number was VHJ 95L. Upon completion of the full and entire rebuild of this car in all dashboard dials and gauges were replaced with brand new so the mileage of this car is now approximately 15,000 miles. The Daimler has just been fully serviced and is sold with 12 months MOT. After a short run out is this majestic Daimler we soon established it is everything and more than we could have ever hoped to expect. The drive is faultless in every way. Even after changing fashions and designs in the car industry over the years this is still an extraordinary beautiful car. At 48 years old she can still effortlessly make you smile and waft you down the road giving you that immense feeling of occasion. The ride is perfectly smooth without issue and has the unbelievable ability to iron out all of the bumps, the V12 engine is precisely tuned to perfection and performs effortlessly as expected offering 80 psi oil pressure. Everything works in this Daimler exactly how it should. There is no doubt the car still oozes class and desirability. The Cars Coachwork Is Finished In Gleaming & Truly Stunning Brooklands Green Metallic, Complemented With A Bespoke First Class Wentworth Green & Tan Soft Sumptuous Connolly Hide Interior. 11 Premium Hides Were Used In The Interior Refit. The Cabin Is Furnished With Highly Polished Chrome & Stainless Steel Fittings Which Alongside Adorn The Beautiful Dashboard & Interior Door Burr Walnut Veneers. The car comes complete with a very large and extremely interesting history file which includes photos before, during and after its comprehensive and detailed long restoration. The history file also contains hundreds of receipts, bills & documentation relating to its long £90K renovation. There are also clear and condensed previous owner written documents and accounts stating precisely the restoration work, parts fitted, upgrades, past ownership with dates, mileages, past owner UK locations, car shows entered and won, journeys and countries toured. This car was only one of two cars of this type produced in in 1972 only. The total production for world sales of the Series 1 Daimler Double Six Vanden Plas was just 351 in its 5 year run. Nearly all of which were exported abroad. Making this an extremely rare car indeed without considering how many might be left now and how many are still around in this unbelievable and astonishing condition. Jaguar Daimler Heritage have valued this car at the asking price. This iconic British car is one to wrap in cotton wool for sure. We are looking only to sell this car to the very best of homes. Collectors, enthusiasts, owners club members or simply classic car investors please don't hesitate to register your interest with us swiftly, we will be very happy to go through on the telephone or in person at our showroom the full account of this cars history file and of course arrange for you to view this incredible vehicle in our clean dry premises. The specification is impressive for a car of this era, x4 electric windows with front & rear switches, a/c, full leather, adjustable drivers door mirror, adjustable steering column, glove box with vanity mirror, front & rear armrests, chrome ashtrays, rear a/c ventilation, rear seat map & document pockets, radio, x4 radio door speakers, central locking, PAS, front & rear safely belts, map lights & interior reading lights, front & rear parcel shelves, front opening quarter light windows, cigar lights front & rear, front fog lights, air cooled disc brakes all round and so more more to list. Additional upgrades: 4 pot brake calipers, 3.07 power lock rear differential, Harvey Bailey heavy duty front & rear roll bars + anti-tramp tie rods, Bilstein shockers, Later ZF power steering rack, up rated headlamps & all four lights converted to main beam & dip, upgraded wiring & upgraded higher output alternator, Opus electronic ignition system fitted, spin on oil filter conversion, geared starter motor fitted, AJ6 U box is fitted as to avoid problems running on unleaded fuel, stainless steel exhaust systems. Call us today, We look forward to your interest.